December is a month of giving,
and there are many ways to donate to worthy causes.
This year my running group planned our Second Annual Charity Run.
The Erie agency of choice this year was
SafeNet, a domestic violence center.
In lieu of race fees, each participant donated items needed by the shelter
which helps women and children right here in my city.
Before yesterday's run, I knew little about SafeNet.
My life path has not led me to their doorstep seeking help and refuge.
I live comfortably, and yesterday I was reminded of the people who don't.
SafeNet offers shelter, counseling, legal advocacy, and education to those in need.
The important lesson I learned this weekend is that collective efforts make an impact.
Sure, donations could have trickled in from a few of us here and there this season,
but by choosing one worthy cause, and putting the power of the people behind it,
a big difference can be made.
Donations of cash and other needed items arrived by bike messengers.
My group has a way of attracting attention.
We got 29 honks,
and lots of cheering from Erie's well wishers.
On behalf of my Seussicized group,
I can state for a fact that our hearts grew three sizes that day!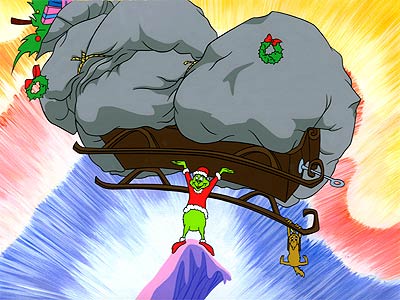 Eloise urges every single reader of this blog to do one thing this holiday:
GIVE.
The Ebola Fighters were chosen as TIME Magazines Person (People) of the Year.
Dr. Kent Brantly is my personal favorite.
Because there was not a single recipient of the honor this year,
TIME designed several covers.
The Lamp Post copy sits on the coffee table opened to this page,
which briefly describes
Dr. Brantly's personal experience with ebola.
Known best for surviving the disease and donating his plasma so others
could build immunities, Dr. Brantly downplays his own experience
and focuses the opportunities that await him because of it.
From TIME magazine, December 22, 2014 edition:

"I don't live every moment conscious of what I've been through. But I think whenever we go through a devastating experience, it's not about there being some inherent redemptive narrative, but it is an incredible opportunity for the redemption of something. We can say, How can I be better now because of what I've been through?"
What is Ebola like?
Read Dr. Philip Ireland's account of his illness.
Hiccups are a sign of advanced ebola.
Does it seem too far removed for you?
Reluctant to throw money at a problem that 63 countries
have donated more that $1.8 billion in aid?
The least you can do as a member of the human nation
is to take a moment to know someones pain.
I can't travel to Liberia,
but I can pray for Esther.
When she awoke from her coma, she was the only one from her family to survive.
The woman pictured with Ester took her in.
Don't be a grinch this holiday.
The message Eloise is trying to convey is this:
YOU CAN MAKE A DIFFERENCE.
When YOU becomes plural and takes on a collective action,
the possibilities are limitless.
If you have a few extra dollars, spend it in ways to benefit someone.
If you aren't using something you once had a need for, donate it.
If you have a special talent, share it.
If you have
a heart
and a mouth
and two hands
and a free moment,
stop and say a prayer for those in need.
It will make a difference.
Make your Christmas a little bit more.
Enjoy the photo story of the Will Run For...Chapter 2 Charity Run, set to Welcome Christmas from How the Grinch Stole Christmas, of course!
ELOISE