Eloise's Top Ten Tim McGraw Song #4
I Got Friends That Do
(photo slide show appears at bottom of this post)
I got at least one friend who is following the countdown. She told me in a recent facebook post. I can't wait to see if she agrees with my list. If she doesn't, that will give us something to battle about when we return to work in a month.
Eloise did not take this assignment lightly. 70 of Handsome's songs in my iTunes library were tough to sort though. I felt as though I was making cuts for a team. Agony. I guess that is why I am always the fan and never the coach. I can't take the pressure.
Life is all about decisions though. Here is what I decided on thus far.
To review (all good teachers periodically review):
10. Live Like You're Dying
9. My Next 30 Years
8. Felt Good On My Lips
7. Beautiful People
6. Where the Green Grass Grows
5. Please Remember Me
4. I Got Friends That Do
Readers, can you predict which will fall into those top three slots? I hope I got you thinking. That is always my goal.
Today's song is about friends. Tim McGraw is on tour this summer with his friend Kenny Chesney. They recently appeared on the cover of People Magazine. Eloise bought the issue, of course, and the pair talked about the Brothers of the Sun Tour which has had sell outs in Pro Football stadiums across the country. Eloise and Friend will be at the Cleveland, OH show in just four days!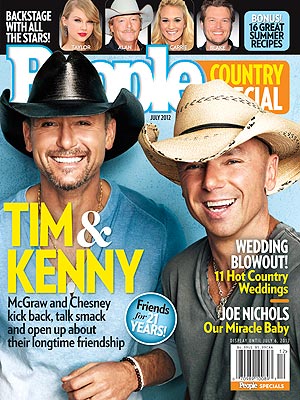 Tim and Kenny are the same age, 44, but to me Kenny Chesney seems younger for some reason. Maybe it is because Kenny Chesney is single and Tim's a family man.
This should be an interesting show for me. I love Tim McGraw and can't stand Kenny Chesney. I even purchased some of Kenny's top songs to practice listening to, attempting to force myself to like him in some way. I figured everyone else likes him, why shouldn't I? After doing a search of his songs and finding, SheThinks My Tractor's Sexy, I screamed. I want to rename it, She Thinks You Have a Pea Head. This goes to show you that you can't help who you love. Loving someone runs deep in your soul, and is impossible to change.
Since today's post centers around friendship, I can't help but think of my Nittany Lions out on the practice field, now minus the bronze statue of Coach Paterno that stood outside of it. Who will stay with the team and the university? Who will take advantage of the NCAA ruling to allow players to transfer schools. As of this morning, stud running back Silas Redd is still silent.
What would you do it if it was you? What if it was your child with a promising academic and sports career ahead of him? I would hope Sam would pray about it, soul search, and seek my advice. I know if I agonized over something in my life, I'd seek out my Mom and Dad. Mom would light up a cigarette,wave the smoke out of my face, and talk me in circles for two hours. Dad would point me in the direction of this poster that hangs in the Garagemahal, leaving me with more questions than I had to begin with:
(Did you notice Rolling Rock made the front row?)
Eloise would hope that her son would be like senior linebacker Michael Mauti. Yesterday in a press conference, he said this:
"We take this as an opportunity to create our own legacy." This program was not built by one man and it's sure as hell not going to get torn down by one man."
....and I am sure I Got Friends That Do, too.
Enjoy your summer day and the song below, filled with Friends of the Lamp Post,
Eloise